A first person shooter
Download (1.0, r219)
How to Play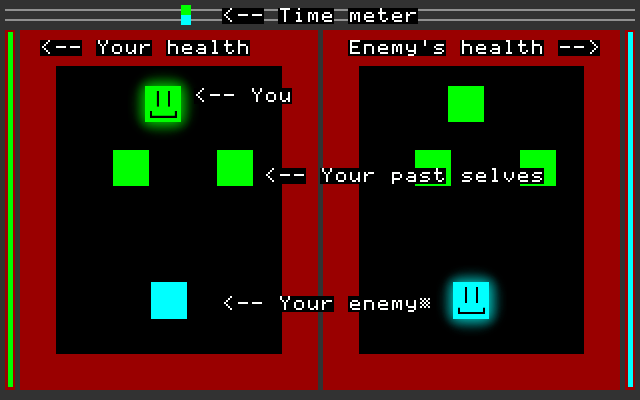 The Snap is a two-player deathmatch shooter with time travel. Time in the Snap arena takes place in a loop. 20 seconds or so after the start of each game, the events of the game will begin to repeat themselves. You can also jump back in time by about five seconds or so by performing a Snap.

If you interact with the past, you will change the present. If you shoot someone in the past, you will damage them in the present. If you block a bullet in the past, thus preventing someone from getting hit by that bullet, damage in the present will be undone.

For best results, I suggest using a gamepad with analog thumbsticks (you can fit both players on one gamepad if you try!); also, since the game uses stereo sound with the sounds "heard" by one player going to each ear, I suggest plugging in a pair of earbuds and giving each player one earbud.

10 levels are included, and you can make your own; if anyone tries out the custom levels feature, please do post below and let me know.
Future development?
This a prototype of sorts, created in 40 days for the Tigsource Versus competition. I'd be interested in making a more complex game with more complex environments and online play (maybe a "real" first person shooter or a 2D platformer with free-aiming guns) using the time engine someday. Is there interest in this?